Latest version : 0.69.2 - Updated 21st Dec 2014
The Universal is an online game for Windows PCs.

You can try the development version for free.
Event Schedule & Prize Rounds
Next Event:
19th Dec 2014 : Prize Round starts on Zion 3
Upcoming Events:
21st Dec 2014 from 20:00 UTC : Minigames tournament
30th Dec 2014 at 22:00 Zion 3 prize round ends
31st Dec 2014 : Galactic wealth and prestige prizes


Game News
Zion 3 : Bonus Sunday
by: Mit on December 21st, 07:39am
Yes its Bonus Sunday! Log in to Zion in the next 12 hours and get an extra 20 export credits. Employee wage grant is doubled to 10d until midnight (UTC). Another 20 export credits + other prizes will be available at the minigames tournament on Magicthumb tonight.

Current top 10 :
1. Mazo : 30s60d
2. viad : 26s55d
3. JasonX : 16s25d
4. REB11 : 15s85d
5. Fooli : 14s65d
6. ZyrVoX : 13s45d
7. Haxina : 11s30d
8. VDZ : 8s25d
9. cctoide : 4s30d
10. Caduet : 4s25d


First prize round
by: Mit on December 18th, 07:56pm
After an Absolute Bucketload of Activity, the first prize round on Magicthumb has been won by .. (drumroll).. Zaroba with an 'impressive' 14 kudos points. Pressies from me at the end of the year.

The next prize round will start Friday 19th December and will be on Zion 3 - a newly built social economy where'll you need to trade and co-operate with other players to get rich. You can read more about that here. Prizes will be awarded at the end of the year for those with the most cash and kudos.



December Events
by: Mit on December 6th, 06:40am
We'll be hosting a number of events throughout December, with some festive prizes on offer too. Check the forum post for more details.

Game Update
by: Mit on December 5th, 08:10pm
0.68.7 has some fixes, improvements and optimisations for the landscape LOD rendering, '3d' chat console when in space cockpit, some tidyups on the space UI and a few miscellaneous bugfixes.

In 0.68.5...
by: Mit on November 28th, 08:29pm
... Fix for WinXP compatability, new weapon types, various additions for 'Demolition' (Kill the Puny Humans!), landscape rendering improvements, new scripting features for worlds, better ship replication in space, event admin commands, some new spaceship and planet graphics. You're welcome!


Archive | Back to top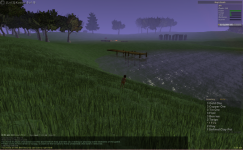 Click for more screenshots
Galaxy Status
(Private alpha galaxy)
16 of 110,980 worlds explored
8 of 38,533 worlds terraformed
2 of 27,200 starsystems controlled

Leading Factions
(Private alpha galaxy)
1. Stafftest (2 systems)


Galaxy Scoreboards
(Development Galaxy)
(Updated: 10:12, 22/12/2014 )
Galactic Prestige Top 10
President of the Galaxy :


Morvis

(2 GPR)
Galactic Council
No members


Galactic Wealth Top 20
1. Yygo - 344141.3cr
2. Jameson - 343771.9cr
3. ylyg - 44167.5cr
4. atrandil - 39294.6cr
5. Morvis - 850.4cr
6. zutaty - 103.3cr
7. clos - 49.7cr
8. Haxina - 27.7cr
9. Alyx - 10cr
10. Bijou666 - 10cr
11. Caduet - 10cr
12. Dimas4G - 10cr
13. Farscape - 10cr
14. Fooli - 10cr
15. GregSorrow - 10cr
16. JasonX - 10cr
17. Joshua25 - 10cr
18. Kirby - 10cr
19. Malkiah - 10cr
20. Mit - 10cr

The Universal is user-generated universe, part online social city-building economy game, part world-development sandbox, part Elite-style space trading sim, part resource/crafting game, part 2d blaster, part.. well .. you get the idea.


Features

An ever-changing universe
Players can customize their own world in the galaxy
Different experiences on every planet
A galaxy to explore



Action and Minigames
Vehicles to drive about in - land, air & sea.
Racing, jetpacks, arcade machines
Fishing, bongos, Ultrakricket!
CTF, robotic laser-firing crows!
Chess, Hornball, Pubs!



User-generated content
Compete on player-run worlds
Build your own world radio station
A never-ending supply of new, downloadable content



Online social gameplay
Trading, competition and cooperation between players
Complex economies
Multiplayer minigames
Gain skills, experience and achievements