Game News
0.67.6
by: Mit on September 1st, 07:27pm
In this new version we have.. (drumroll)..

- New space station visuals
- Space Station spectator cam with camera control on arrow keys (nice to watch people trading..)
- Fixes and improvements to the landscape & water rendering, which means BiplaneWorld is worth a quick flyover (just need to finish the stitching..)
- Various minor fixes and improvements for space UI
- A whole lot of love

.. and a new DLC pack for space which tightens up the graphics on level 7. Oh and did I mention the new point drive?


0.67.3
by: Mit on June 26th, 04:07pm
In this client update there's a major overhaul of the graphics engine (producing a much better framerate for lower spec PCs), improvements to the sun & grass rendering and a whole bunch of bugfixes and improvements for UI, scripting and in-game world editing tools.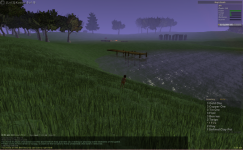 New grass
by: Mit on June 15th, 07:33pm
Bit chunky yet but I know what needs doing.. Click for more: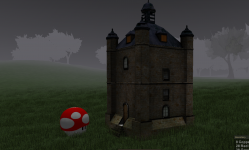 0.67.0
by: Mit on June 11th, 06:48pm
The 0.67.0 release expands the number of inventory item slots, skill slots and scripted variables available on the world servers. This is a breaking change - old clients won't connect to new servers (and vice versa).

World Owner Manual updates
by: on June 11th, 06:51pm
For those of you interested in a bit of old game development, there have been lots of updates to the World Owner's Manual including a whole load of useful little server script examples in the System Functions reference.

Create your own world
by: Mit on May 2nd, 12:26pm
We are now alpha-ing a 'cloud' hosting system for worlds - login with the new version, click 'Create World' and (theoretically) you'll almost immediately have your own playground to mess around in. F10 takes you to the world editor where you can tweak vehicle settings, game modes, move trees about, paint your landscape, etc etc etc.

Watch Video

More to follow shortly.. lots of fundamental stuff has changed recently!


Back to Space
by: Mit on December 10th, 09:12am
Tomorrow ( probably late tomorrow :] ) we'll be heading back to space (woot!) - all characters will be reset and you'll need to play through the introduction world again. (But this time with a different ending).
Read More..

Have a try on Xebec
by: Mit on October 13th, 05:00pm
For the next couple of weeks or so, we'll have a player-built world as your destination when logging in to the game : Stimutac's Xebec has plenty of things to do to keep you interested while I switch everything over to a new phase by November. Enjoy!


Archive | Back to top